:::
Product Info.
Online Date: 2008/08/28
Modify Date: 2014/08/25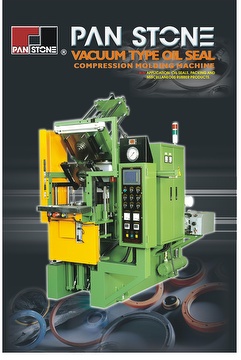 VACUUM TYPE OIL SEAL COMPRESSION MOLDING MACHINE
Taipei Nangang Exhibition Center, Hall 1 (TaiNEX 1) K0816
Product Model:S-V-150-3RT-PCD
Description
Description
1. FAST MOLD FIXING DESIGN
2. AUTOMATIC CYCLE FOR MOLD SHUTTLE IN AND OUT, BUMPING, CURING AND PARTS EJECTION.
3. SAVE LABOR COST AND PROVIDE HIGH WORKING EFFICIENCY.
4. AUTO DEMOLDING AND PARTS EJECTION.
Other Products Offered by This Company