:::
Product Info.
Online Date: 2012/08/07
Modify Date: 2014/08/25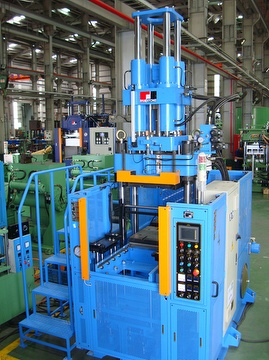 VERTICAL TYPE RUBBER INJECTION MOLDING MACHINE
Taipei Nangang Exhibition Center, Hall 1 (TaiNEX 1) K0816
Product Model:INJ-200/1500-3RT-FIFO(節能型)
Description
Description
FUNCTIONS:
1. GIVES HIGHER INJECTION PRESSURE, MATERIAL DIRECTLY FLOW INTO MOLD CAVITIES THROUGH RUNNER.
2. SCREW REVERSION TO RETURN MATERIAL.
3. CHECK VALVE, INJECTION NOZZLE ASSEMBLE/DISASSEMBLE EASILY.
4. SERVO MOTOR, CLOSE-LOOP DESIGN
FEATURES:
1. SUITABLE FOR HIGH HARDNESS RUBBER MATERIAL 85°_90° AND LOW FLUIDITY RUBBER MATERIAL, EX.: NR, FKM…ETC.
2. RUBBER MATERIAL ALTERNATE AND CLEAN EASILY, SAVES TIME AND RUBBER MATERIAL.
3. WITH INJECTION NOZZLE LIFTING UP SYSTME TO AVOID CURED RUBBER.
4. HYDRAULIC CIRCUIT WITH ENERGY-SAVING DESIGN TO SAVE MORE COST.

Other Products Offered by This Company