:::
Porduct Info.
Online Date: 2012/06/19
Modify Date: 2018/06/04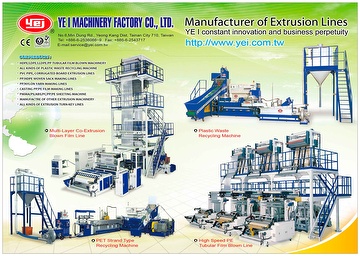 Water Cooled Plastic Waste Recycling Machine
Taipei Nangang Exhibition Center, Hall 1 (TaiNEX 1)
Product Model:
Description
Description
YE I devotes to plastic waste recycling system having a conspicuous effects due to the rise of environmental consciousness and the rise of plastic raw materials. YE I's plastic waste recycling machinery is designed combination of Shredder / Extruder / Pelletizer suitable for PP, PE, PS, ABS, PC, PET, PMMA, EPS, EPP, EPE…, twin hydraulic cylinder type screen changer, allows changing screen without machines shut –down, high production capacity (max. output 1,000kgs/hr. ), low noise, and compact space. After all, contact us if there is anything we can do for you.


Other Products Offered by This Company