:::
<!#--所有資料+cate tab --> <!#--detail-->
3-in-1 Mega Show Will Occupy 3,300 Booths this September
Online Date: 2020/03/31
Modify Date: 2020/03/31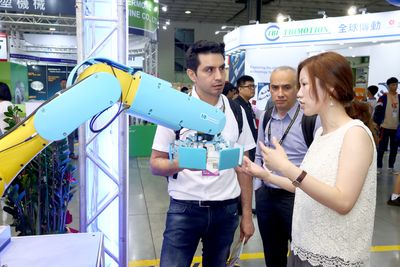 Due to the Coronavirus (COVID-19) outbreak, the Taipei Intelligent Machinery & Manufacturing Technology Show (iMTduo), co-organize by the Taiwan External Trade Development Council (TAITRA) and the Taiwan Association of Machinery Industry (TAMI), has been postponed to September 9-12, 2020. This time, three major machinery exhibitions, namely the iMTduo, the Taipei International Plastics & Rubber Industry Show (Taipei PLAS) and the Taipei International Shoe Making Technology Show (ShoeTech Taipei) will be concurrently held at Hall 1 and Hall 2 of Taipei Nangang Exhibition Center.
It is expected that 3,300 booths will be used to display the advanced machinery and equipment in the three fields, namely smart manufacturing, plastics and rubber, and shoemaking. Offering an opportunity for these three major machinery industries to achieve cross-industry alliances and horizontal connections, the joint trade fairs will surely be the 3-in-1 mega show for the machinery industry in the second half of 2020 in Taiwan.
According to the statistics of the Taiwan Association of Machinery Industry (TAMI), the annual output value of Taiwan's machinery and equipment has reached NT$1.1 trillion or more in each of the past three years, while the export value has reached US$28 billion to US$30 billion every year. Because its production bases and supply chains are so complete and competitive that the machinery industry has become an important sector in Taiwan.
This year, the theme of Taipei PLAS will be "Industry 4.0", "Smart Manufacturing" and "Circular Economy", with the exhibition contents including "Plastics & Rubber Machining Equipment", "Injection Molding Machinery", " Blow Molding Machinery", "Printing Machinery", "Packaging Machinery", "Molds, Parts and Accessories" and "Plastics & Rubber Raw Materials and Products", fully demonstrating the complete supply chain of Taiwan's plastics and rubber machinery industry.
Tailor-made for the new generation of manufacturing and Industry 4.0, the iMTduo will focus on smart manufacturing and trends. Its exhibition portfolio will include "Metalworking and Automation Equipment", "Smart Machinery and Manufacturing" and "Precision Components, Sensors and Measuring Equipment", fully presenting the products and solutions required for the smart manufacturing supply chains.
The ShoeTech Taipei will not only showcase highly efficient automated shoe-making machinery and equipment, but also add an exhibition agenda for the "Shoe Materials and Accessories" to provide more diversified purchasing options.
As more and more plastics and rubber product industries and shoe-making industries need to introduce and adopt intelligent equipment, automation technology, Industrial Internet of Things (IIoT) and other production models to upgrade and transform their production lines, enhance their manufacturing efficiency, and reduce production waste, we will therefore add the iMTduo Show to inject more smart manufacturing elements into the Taipei PLAS and the ShoeTech Taipei trade fairs.
Moreover, the Taiwan External Trade Development Council (TAITRA) will fully mobilize its 63 overseas branch offices to invite heavyweight buyers from all over the world to visit and purchase, for which one-on-one procurement meetings will be held. Moreover, to help the industries master the latest industry trends, a variety of peripheral activities such as summit forums and technical seminars will be also held during the exhibition.
The Taipei PLAS, the iMTduo and the ShoeTech Taipei will be the best tri-exhibitions for you to learn of smart manufacturing and the plastics and rubber machinery and shoemaking industries in Taiwan. We sincerely invite all the industry players to take part in the event in September.
For more information, please visit the following three official websites: www.taipeiplas.com.tw, www.imtduo.com.tw, and www.shoetech.com.tw. Those who are interested may sign up at the "Space Application" page, while interested visitors may apply for pre-registration at the "Visitor Registration".
iMTduo will make its grand opening at Hall 2 of Taipei Nangang Exhibition Center for four days from September 9 to 12, 2020. Concurrently, the "Taipei International Plastics & Rubber Industry Show (Taipei PLAS)" and "Taipei International Shoe Making Technology Show" (ShoeTech Taipei)" will be also held at Hall 1 and Hall 2 of Taipei Nangang Exhibition Center. It is expected that Taiwan's three major machinery exhibitions will use 3,300 booths. (2018 file photo)